Supplier of THz Cameras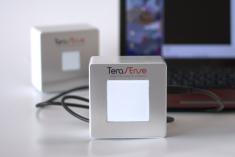 We are happy at Laserand to introduce our new supplier of THz Cameras. In the end of March 2015 Laserand, inc. has signed a distribution agreement with Terasense, Inc. to distribute their wonderful products in the US and Canada.
Revolutionary patent protected Terasense® technology allows to produce a new type of semiconductor detectors of T-rays, which can operate at room temperatures. These detectors can be combined into a compact matrix (like CCD in photo camera) and are quite inexpensive. In addition to detectors, the Company has a technology for creation of T-rays "flashes" and also possesses the technology for substances detection using their individual terahertz spectral "fingerprints".
Terasense® devices are safe like a cellular phone, compact and cost-effective like a video camera. Medical Imaging and Non-Destructive Testing have a chance to become a mass market with Terasense® terahertz technologies - each physician or engineer will be able to buy it from the shelf and use in their office. It could be revolutionary change for life sciences, medical, security and many other markets.
« Back