ALEX-i 2k2k plus - New Product Release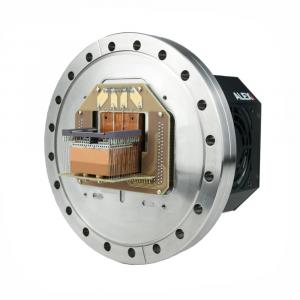 Recently greateyes GmbH have developed a highly customized camera, which we believe other applications could benefit from as well. Please meet our ALEX-i 2k2k plus camera. It has 2048×2048 pixel, 15μm pixel seize. Larger pixels lead to a better full well capacity. When paired with low noise electronics and 18bit digitisation this is boosting the dynamic range of the camera. The camera features four readout ports for high frame rates. The ALEX-i 2k2k plus has Air and Water cooling.
We can accommodate special requests same as for the camera delivered recently. The application required a customised sensor position, as the light will be measured at a very large incident angle. To achieve this, we made it protruding from the flange and also tilted it. Expertise and persistency of greateyes GmbH engineering team ultimately led them to success in this very challenging project.
This ALEX-i 2k2k plus camera is now included in our product portfolio as standard product (as a version without sensor adaptation). Please inquire about customization requirements.


« Back